Veterinary Equipment List You Need When Setting Up Your Clinic
11

min read
Opening a new practice or remodeling your current facility can be a huge undertaking, especially purchasing all the veterinary equipment necessary to ensure you provide high-quality care. Although the following list is by no means comprehensive, it covers essential items you need when furnishing your veterinary hospital.
Veterinary equipment for the reception area
1. Client seating
In light of the recent and ongoing COVID-19 pandemic, you must follow specific protocols when designing your client waiting area. You have to accommodate seating options with a safe distance apart for single pet owners and small families. If your waiting area is not very large, you may consider placing plexiglass barriers between seats if you cannot maintain a safe enough distance. Positioning seating with ample space between clients also allows for a safe distance between pets, especially cats from dogs and nervous pets from overly friendly pets. Try to block off seats if your current seating is too close to provide an appropriate distance, as shown in the image below:
2. Weighing Scale
Although you'll want a small scale for pediatric patients that you can carry into exam rooms, using a walk-on scale in your lobby will help weigh all your patients are as soon as they walk through the door. Many pets are leery of getting onto the scale, so you may consider one built into the floor to help disguise this piece of equipment.
3. Product displays
Product displays that allow your clients to browse additional pet health products before checking out can add to your revenue. Stock shelves and other displays with prescription and over-the-counter diets, dental care items, and grooming supplies. Also, create an area behind your reception desk to display parasite prevention. Keep these items safe but visible, allowing clients to ask questions about the best preventives for their pets. However, during the COVID-19 pandemic, you may choose to keep all items behind your reception desk to eliminate extra sanitizing.
4. Sanitation station
A sanitation station is a must in your lobby, current pandemic or not. Outfit your sanitation station with hand sanitizer, paper towels, spray disinfectant, and a trash can. These items will allow your clients to clean up their pet's accidents in your lobby and allow them to sanitize their hands at every opportunity.
Veterinary equipment for exam rooms
1. Exam tables
Sturdy exam tables are a must to help put your patients at ease during their appointment. Furnish your cold exam table with a nonslip mat for maximum patient comfort. Exam tables can also double as cabinets to provide handy storage space for veterinary supplies, parasite prevention samples, and client education materials.
2. Physical exam equipment
You should include a stethoscope, thermometer, and combination otoscope/ophthalmoscope as they are vital parts of any physical exam. Other valuable tools may include a Wood's lamp, flea comb, penlight, and various supplies necessary for diagnosing diseases, such as blood collection tubes, microscope slides, syringes, cotton-tipped applicators, and more.
3. Treat and toy basket
Veterinary visits can be scary for pets and their owners alike, but fun and tasty distractors like toys and treats can reduce stress levels and make for a more pleasant experience. You can accomplish much more than usual in the exam room, from nail trims and blood draws with this trick. Dogs generally like whipped cream or ice cream cones and for cats, you can try canned tuna.
Veterinary equipment for medical record keeping
1. Tablet or laptop
Many veterinary practices have made the switch to paper-free or paper-lite medical record-keeping. Whether you choose to use a cloud-based practice management software or one that runs off the central server within your facility, equipment designed to input physical exam findings, share test results with clients, and research unusual cases is necessary. Depending on the size of your exam room, you can either carry an iPad or use a laptop/desktop computer to promptly update the medical records.
2. Filing cabinets
If you opt to stick to some or all paper medical records, you'll need ample filing storage. Check your state's legislation regarding how long you must keep medical records before disposing of old records properly.
Veterinary equipment for the surgery suite
1. Surgery table and lights
A surgery table with ample lighting is essential for performing elective and life-saving procedures. You can choose from a simple stainless steel surgical table to a piece of equipment that you can heat or has a hydraulic feature.
2. Anesthesia equipment
Anesthesia equipment consists of an anesthesia machine, vaporizer, and scavenging system. Most general practices opt for anesthetic machines that use isoflurane.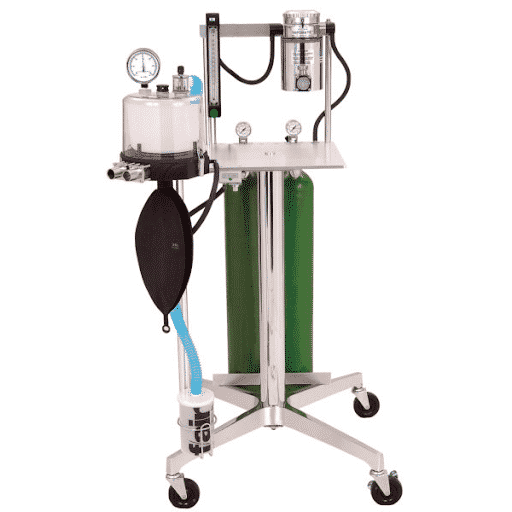 3. Patient warming unit
Keep your patients warm during and after surgery with a warming unit, such as a Bair hugger.
4. Monitoring equipment
Although monitoring equipment cannot replace a highly trained veterinary technician, monitoring equipment will help evaluate your patient's health while under anesthesia. Include a blood pressure monitor, capnography, pulse oximeter, and electrocardiography equipment.
5. Dental unit
A high-speed dental unit that consists of scaling and polishing handpieces will help battle the rampant dental disease among almost all pets over age 3.
6. Autoclave
As a practice after every surgery, you must sterilize the instruments. For this, you can use a steam autoclave as shown in the image below. Before sterilizing, you must clean the instruments using an ultrasonic cleaner, so remember to add that to your list.
Veterinary equipment for the treatment area
1. Drug and supply storage
Without a stocked inventory, it's tough to treat your patients. Outfit your treatment room or another location with cabinets or shelving to house your medications. Be sure to include a lockbox in which to store your controlled substances securely.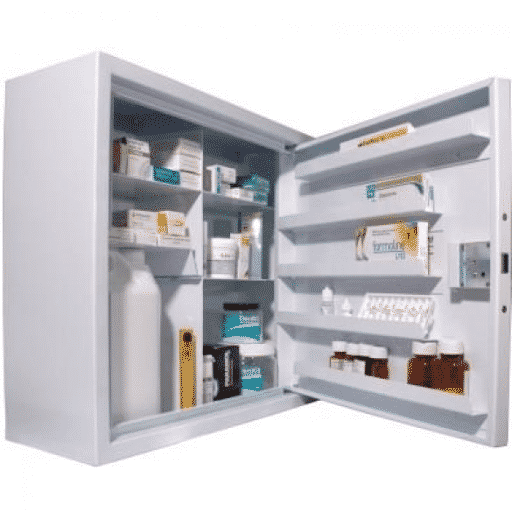 2. Patient Cages
You would need cages at your practice for your patients who generally come in for treatment, those who require a longer hospitalization stay, and your surgical patients.
3. Refrigerator
Use your medical refrigerator to store vaccinations, temperature-sensitive medications, and specimen samples. You can easily purchase a used or discounted refrigerator through social media groups or an appliance outlet to save some money without skimping on function.
Veterinary equipment for the laboratory area
1. Digital radiography equipment
Very few practices still use processing tanks and film for their X-rays. Instead, search for a modern digital radiography machine to quickly and easily take radiographs and view images. Although not absolutely necessary, we recommend having a dental radiography machine is also recommended, since up to 60% of the tooth structure lies below the gumline.
2. Microscope
A microscope with at least three objectives (10x, 40x, and 100x) will help you diagnose everything from ear infections to thrombocytopenia.
3. Blood analyzers
Although you can certainly send all your samples to an external lab for processing, having results within 15 minutes allows you to begin a treatment plan much sooner. Basic blood analyzers that give you CBC and chemistry results are a good place to start, and you can add a machine that tests clotting times for additional patient health information.
4. Centrifuge
A centrifuge is essential for spinning down fecal, urine, and blood samples to obtain in-house results.
Where to find veterinary equipment
Large veterinary suppliers can provide most of your equipment, but you can also search for specific manufacturers of certain items to find the tools you need. 2 trustworthy Vet suppliers, you can get in touch with are Patterson Veterinary and MWI Animal Health. For vet equipment like a Bair hugger and dental unit, you can try manufacturers of such specified equipment like 3M or Midmark Animal Health. If you'd rather purchase a package plan for all your veterinary equipment needs, consider a company like Apexx Veterinary Equipment to furnish your entire hospital.
Final thoughts
Outfitting your veterinary practice with the proper equipment is a huge and tough task to undertake. However, you don't need all the bells and whistles when you are at the planning stage of your practice launch. Instead, stick to the basics you need to provide quality care to your patients, then upgrade your equipment or purchase more specialized tools as needed.